Here is a PROJECT
using these designs stitched by Wendy.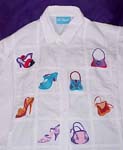 Click to see.
If you need blanks,
try our product
catalog.
We can also
make special
orders for you on some items. Just contact us
to let us know
what you need.
Wendy's Treasures - Custom Embroidery,

PayPal accepts

Digitizing, Screen Printing, Apparel, & Gifts
"Building God's Kingdom - One Stitch at a Time"
.....

Design Set - Accessories Series I
from WENDY'S TREASURES

Sold as singles $6 or the whole set for $24 (save $36)
These designs fit in the 3.5" panes of the windowpane shirts.
Click the picture on the left to see a project using these designs.

Click on the pictures for size & stitch count of each design.

....

Order
Item
EDSE-50607ACC
$6

....

Order
Item
EDSE-50607ACCset
$24

Original Accessories Designs by Clipartropolis.
Scroll up to see the 4 designs in this series.

We accept payments
through PAY PAL.
You can use your

with Pay Pal.

sign up for a Pay Pal account
here, or by using one of the "add to cart" buttons that look like this

on a product page.


Thank you for visiting our site.
Wendy's Treasures Policies are posted on every page of
the site at the bottom.
Designs | Privacy | Returns | Shipping |



Shipping Policy:
Prices listed on product item pages do not include shipping. We normally ship US Postal Service Priority Mail. We generally ship larger packages via FedEX.
PayPal Users: We will notify you of the actual shipping/handling charges
for your order. Shipping charges are based on your package weight
and destination. There is a flat $.50 handling charge per order.

In stock items ship in 1-4 days. Out of stock items normally ship in 1-3 weeks.
We will notify you via email if there is a delay or backorder.

Stitch files and/or clipart are delivered via email. Please allow 24 hours for
delivery of stitch files and/or clipart. There is no tax or shipping on files sent
electronically.


Returns Policy:
Items may be returned within 15 days in the same condition as purchased for a full refund. Items returned after 15 days are eligible for exchange or store credit only. There is a 15% restocking fee on returned items.


Privacy Policy:
Wendy's Treasures does not publish or share your personal information with
outside parties. Our merchant account transmits information that is encrypted
over a Secure Socket Layer (SSL). The information you send cannot be
intercepted or decrypted.
All information will be transmitted securely and will not be released to any other organization.

You may read the privacy policy of PayPal by going here.


Designs Policy:
Design software sold by Wendy's Treasures is for original customer use only.
The design may be stitched out on garments for sale or personal use.
Design files may not be resold, nor posted on other sites as available for
purchase nor as giveaways/freebies.
Duplication of design files for resale or transfer to another party is a violation of
copyright laws.
Except where noted when original designs are credited to vendor artists,
all designs copyright © Wendy's Treasures 2004, 2005, 2006, 2007, 2008 and/or 2009.

Original clipart provided through Wendy's Treasures may be used by the original
pruchaser. Purchaser may alter colors as needed, and/or incorporate the clipart
in items for personal use or as gifts.
Purchaser may digitize the clipart and use the stitch files on items for personal use,
gifts or for sale.
If you sell a digitized version of the design, please give credit to the artist. A statement saying "Original artwork by J. R. Jones of wendystreasures.com" will suffice. A link would be nice.
If you want to create a link, you may copy the line below directly into any web editing software.
<a href="www.wendystreasures.com">Visit Wendy's Treasures</a>
Original clipart may not be resold, nor posted on other sites as available for
purchase nor as giveaways/freebies.
Clipart sold as exclusives belong to the purchaser. Exclusives will neither be
resold nor digitized by Wendy's Treasures or its agents. Wendy's Treasures
reserves the right to display exclusives marked "sold" as an example of clipart
sets.
Duplication of design files for resale or transfer to another party is a violation of
copyright laws.
All clipart copyright © J. R. Jones and Wendy's Treasures 2004, 2005, 2006, 2007, 2008 and/or 2009.

.....